Saturday, October 3rd, 2009
---
12:58 am
- U.S. - Invasion of The Body Snatchers - Horror /Sci-Fi
Invasion of The Body Snatchers (1956)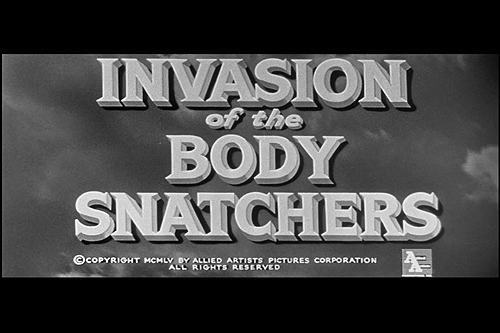 Edition ;


Region 1 - Standard keep case

For my first entry to get you into the Halloween mood I'm bringing out the original classic 1956 film "Invasion of The Body Snatchers". It's amazing how many remakes this film spawned when it was never broken to begin with, uggghh anyone remember "The Invasion"? Yeah, I don't either -____-. It's thrilling, suspenseful, scary and unnerving with lovely camera work for a low budgeted picture, it's so amazing what people were able to achieve without using CGI as a crutch. I TELL YOU IT CAN BE DONE PEOPLE! Come Halloween, there I'll be, on the couch watching this for the fortieth time and happy, so should you :D




(

They're here already! You're next! You're next, You're next...! Collapse

)
Friday, October 2nd, 2009
---
9:21 pm
- Hey Octobah!
It's Halloween Time...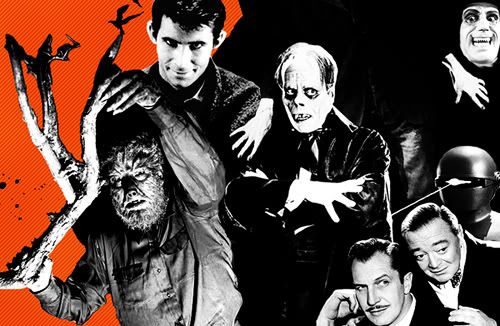 Okay peoples, it's the month of October, akathebestmonthevarr, not only is it the birthday month of the greatest sister on the planet ( I mean you kree) but it's also time to celebrate the best holiday on the calender, Halloween amirite? If you haven't guessed I'm mostly going to be updating with horror-related movies till the 31st. I might stray here or there for a review or something, who knows but that's what's coming! If you have anything you'd want to me cap/review/shed light on let me know :D
(5 comments | Call it..)
Monday, September 28th, 2009
---
7:32 pm
- Season of Good Rain + Trailer + Posters + Stills ; lawdy
Season of Good Rain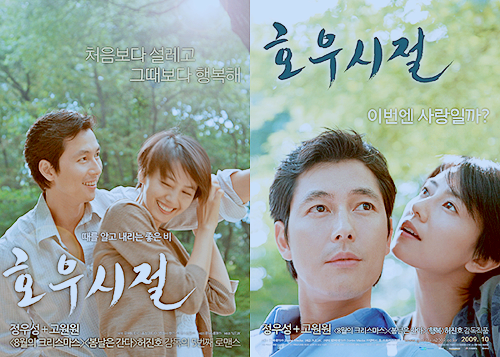 Director Hur Jin Ho returns to the scene with a new film "Season of Good Rain", and true to form it's a romance. It's stars Jung Woo Sung, an actor I'm always happy to see, and a Chinese actress who is new to me, Gao Yuanyuan. Although Romance is going to be the main flare, Hur appears to have left all the tears he is known for aside and brings a simple light film. The story unfolds as a Korean architect (Jung Woo Sung) arrives in China on business and by chance runs into a lost romance (Gao Yuantuan), together they reminisce and make up for lost time.

From the plot it seems too simple, however, the trailer paints a different impression as I know Hur could. The man's style is simplicity, and after 5 good melodramas in the can he clearly mastered it. The atmosphere is so refreshing and reminds me of "My Dear Enemy" which I looooovvveed. It seems that a lot of the dialogue will be in English, and although it's not perfect I think that was the point and it works, I dunno. Oh yeah, Pandas happen :DD




(

Posters/StillsCollapse

)




Trailer;



(2 comments | Call it..)
Sunday, September 27th, 2009
---
4:02 pm
- Japan - "9 Souls"
9 Souls (2003)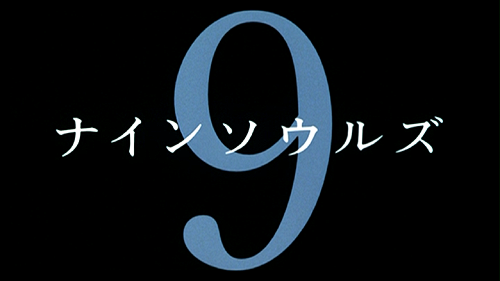 Edition ;


Region 1 - Artsmagic standard keep case

OHSNAP NIPPON! That's right, not Korean and not classic, although it definitely is one. This is hands down one of my all time favorite films, Toshiaki Toyoda's underrated masterpiece "9 Souls". I can still remember when I first saw it because I watched it twice in a row, it's that amazing. It's funny, sad, dramatic, depressing, inspiring, and did I mention depressing? Set it to music from Dip and you have one beautiful and moving film. I consider Toshiaki Toyoda one of my favorite directors, and it's sad he got himself arrested and banished to a black hole, what a loss T____T

Unfortunately for my favorite film, I own the burpy region 1 release by the now deceased Artsmagic (anyone remember them?). I don't have much of a choice in the matter as Japanese films are not as cool as Korean ones and do not provide english subtitles, Japan, change this now! I'm just happy I got the chance to see it at all so I'll deal with it.

If you're as cool as I know you all are, SEE THIS!



(

The key to the future that opens every doorCollapse

)
(2 comments | Call it..)
1:21 pm
- OHSNAP NO CAPS
Na Hong Jin's new film "Yellow Sea" gets cast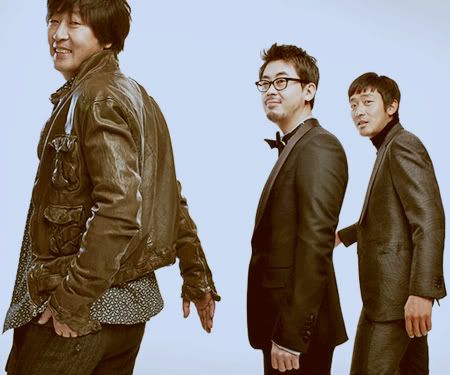 And it's a familiar one. Na Hong Jin isn't going to let all those awards go to his head by beginning work on a new film called "Yellow Sea", previously titled "Murderer". The story is far from "The Chaser", but it's new stars will give you some nostalgia. Back together again is (workaholic) Ha Jung Woo and Kim Yoon Seok. Ha Jung woo will play a very bald (chopping off the lovely locks around October ;O;) Chinese/Korean man who arrives in Korea to become an assassin in order to pay off debts, unbeknown to him however is that his old friend Kim Yoon Seok will play his target, another assassin.

That being said, I'm getting really excited already, I don't know why, but I love it when directors stick with the same actors, hey, if it ain't broke, why fix it? It's going to be a ways away but I'm looking forward to following it like a hawk.
(2 comments | Call it..)
Tuesday, September 22nd, 2009
---
7:25 pm
- YAYAYAY BDAY!! Ughghghhhhhhh 19......


HAPPY BIRTHDAY TO ME!


Okay folks, another birthday, another year. I was really happy for all the love I've been getting today (and some sweet merch) but OMG I'm 19 years old today, that's so scary o.o;; It's my very last year as a teenager ughhhhh it's particularly hard for me because I'm the kind of dude that will forever act like I'm 12 XD

To make this not completely random, I have to tie in movies somehow. I am cool enough to be a nobody that shares my birthday with a very significant somebody, Paul Muni. He's very underrated and awesome, especially as the original Scareface (the steel shutters didn't work so hot huh?). Anybody else share their birthday with someone cool? My mom takes most bragging rights because she shares one with the great Akira Kurosawa pssshhhhhh.
(8 comments | Call it..)
9:14 am
- U.S. - The Petrified Forest (1936)
The Petrified Forest (1936)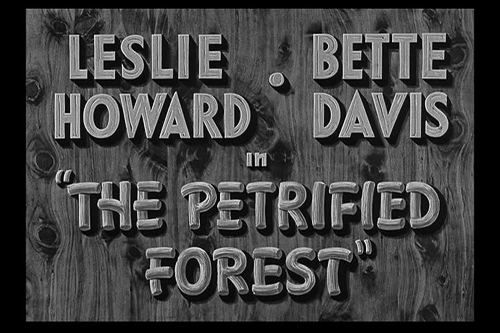 Edition ;


region 1 - WB standard single disc keep case

I'm a little to lazy to write a novel about "The Petrified Forest". All you need to know is that it's awesome, everyone in it is awesome, and the story is fab. This film furthers my theory that any story that includes a number of different interesting characters in one room is bound to be a good one.



(

To my dear, Gabrielle...Collapse

)
Sunday, September 20th, 2009
---
10:15 pm
- Mini Review - Drag Me To Hell UGHHHHHHHH
Mini Review


OH BOY WHAT A STINKER

OOOOKAYYYYY, Sam Raimi you duped me. I thank Christ I illegally downloaded this heaping pile of suck!! The day Sam Raimi met CGI was a dark day indeed. When you find yourself digging into the piggy bank to CG a hanky, you know things are off to a rough start. It's clear horror ain't at it's brightest hour when crap like this is well reviewed simply because it's not a remake or a sequel. I know people are expecting to be taken back to "old school, 80's, b-movie thrills" but wow will you be depressed. The only nostalgic feeling I got was from the retro Universal logo in the opening. Yeah, that's it.

You can look forward to a million cheap shock scenes, a predictable ending, crappy actors, huge plot holes ( UMMM Pork Queen???!! WTFFFFF) and a lovely CGI goat that talks in tongues. I will say this, it could have been good, it's definitely different from horror films recently, but the execution was terrible and awkward, and ya know....a CGI..GOAT!!!!!!!!

1 Gypsy mortgage extension / 5

...I liked it better when it was called Thinner........
(8 comments | Call it..)
9:31 pm
- U.S. - Unfaithfully Yours (1948)
Unfaithfully Yours (1948)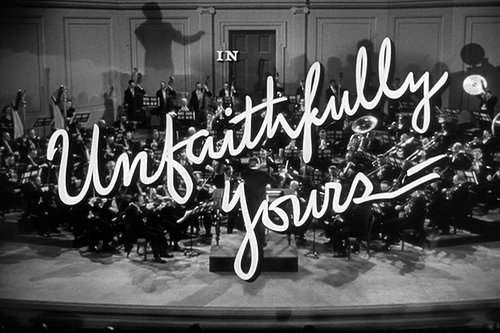 Edition ;


Region 1 - Criterion Collection (OMG l337!11)

I was going to cap a modern movie to keep things fresh, but who needs more wank from this decade when you've got such a beautiful gem as Preston Sturges black comedy "Unfaithfully Yours" from 1948. I honestly don't know where to start or end, this film is just plain amazing, it makes me a little sad that we'll rarely have a genuinely funny film again. Comedy these days are a dieing breed (almost as dead as horror), if you aren't getting bombarded with prat falls, it stars a selection of seriously unfunny curly haired bloated losers, and terrible stories. That is the expect opposite of this film, although there's a good 20 minutes of silent destruction (the good kind). Preston Sturges proves once again he is a great master of the most hilariously funny dialogue, with lines like this, how can you not get interested...

Alfred: Have you ever heard of Russian Roulette?
Daphne De Carter: Why, certainly. I used to play it all the time with my father.
Alfred: I doubt that you played Russian Roulette all the time with your father!
Daphne De Carter: Oh, I most certainly did. You play it with two decks of cards, and...
Alfred: That's Russian Bank. Russian Roulette's a very different amusement which I can only wish your father had played continuously before he had you!

SEE IT!



(

The purple one,....with the pluuuumes at the hips...Collapse

)
(2 comments | Call it..)
Tuesday, September 15th, 2009
---
10:50 am
- South Korea - "Happiness"
Happiness (2007)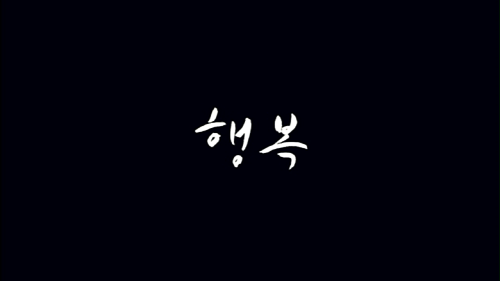 Edition ;


Region 3 - 2 disc Limited Edition

Hur Jin-Ho's melodrama "Happiness" was a stand out film from 2007 that I felt like capping. The film is nice, simple and brimming with talent. I know when "melodrama" meets Korea it's generally scary territory, and believe me, I've seen so many descent films get thrown into suckage by this achillie's heel. Does "Happiness" run into dramatic cliches? Yes, there is hospital scenes and yes there are tears, plenty of them but Hur's writing and direction keeps things chill and mature. Not to mention Hwang Jung Min and Im Su Jeong are stellar but what's new there. "Happiness" may not be a complete masterpiece of cinema, but I believe after seeing it you'll say to yourself "Say, melodramas aren't all bad".

Okay now one to that beauty of a DVD. If you liked this film as much as I did then you MUST buy this. The packaging is breath taking and I loves it.



(

HaengbokCollapse

)
(2 comments | Call it..)
Sunday, September 13th, 2009
---
10:15 am
- South Korea - "Oldboy" (2003)
Oldboy (2003)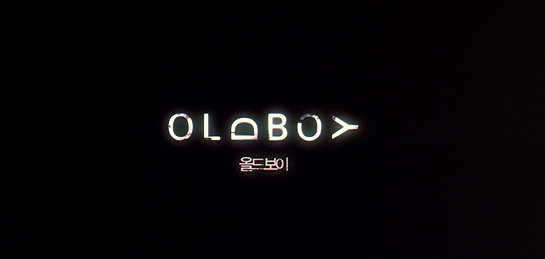 Edition ;


Tartan Asia Extreme - Collector's Tin - 3-disc

I haven't capped anything in a while so I felt like watching Park Chan Wook's cult favorite "Oldboy". What is there to say? It's Oldboy, a film that basically coined the term "Asian Extreme Cinema" to international viewers, and a staple for film lovers everywhere. Park Chan Wook continues to show his eye for visual eye candy, making ridiculously hideous wallpaper seem pretty. As famed as it is though, "Sympathy For Mr. Vengeance" will always be my favorite of the trilogy. Simply put, You've got Choi Min Shik running around with a perm and hammer meaning serious business, Yu Ji Tae as a sharply dressed jerk, and Kang Hye Jeong with her old face.

I was able to get Tartan's collector's tin for about $25 because it was on sale 700 million years ago. The tin is lovely (still the unbelievable likeness to the HBO series "Band of Brothers" tin bothers me >.<), it comes with separate digipacks for each disc, a small collective film cell, and the original manga for which the film was inspired, though I can use that as a coaster cause the art is horrendous.



(

Be it a rock or a grain of sand, in water they sink as the same.Collapse

)
(5 comments | Call it..)
Thursday, September 10th, 2009
---
1:05 am
- Castaway On The Moon - Mini Review
Castaway On The Moon - Mini Review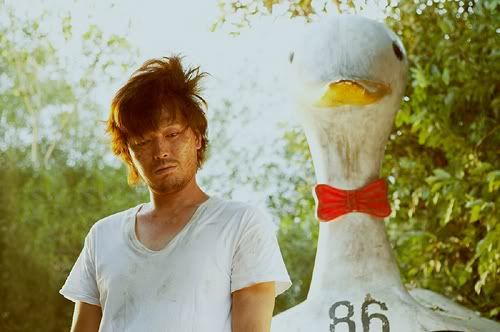 I just wanted to take a break from screen capping to give a brief review of "Castaway On The Moon" (aka thebestmovieofmylifeatm).

This was one film from 2009 that I avidly followed from the very first still. Let me tell you, it definitely delivered. Perfectly paced with just the right amount of balance between both leads and cinematography that had me going gaga over every 5 seconds. I must say Lee Hae jun is proving to be one director to keep a look out for. Jung Jae Young finally picked a project that was worthy of his talent (ughhh Divine weapon anyone?), his character was sad, inspiring and hilarious especially after 3 months on his island. Jeong Ryeo Won shocked the pants off me with one hell of a great performance that I was not expecting, her loner shut in has got to be the best female character ever.

One thing Castaway accomplishes is being quirky without being completely strange or boring, i.e "Miss Carrot". It was sweet funny and really pretty to look at, what more can you ask for? Don't miss it!

5 Black bean noodles of hope / 5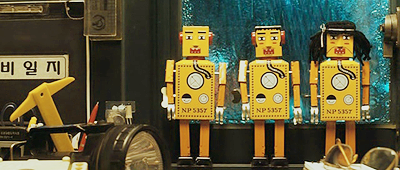 <3
Saturday, September 5th, 2009
---
3:51 pm
- U.S. - The Invisible Man (1933)
The Invisible Man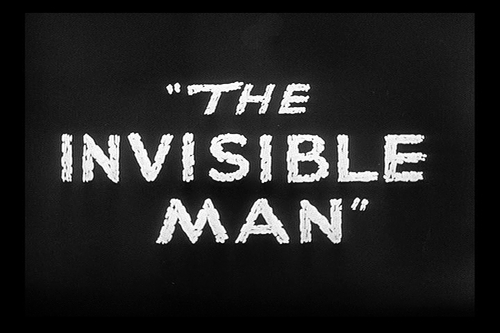 Edition ;


Region 1 - 2-disc Legacy Series

Taking a small break from Korea so I could pimp off caps from one of my favorites, 1933's "The Invisible Man". Claude Rain's is probably the best villain ever in the history of the world in this. He has the voice of no other while speaking such cynical dialogue of a character who grows more and more wonderfully insane. Don't let the year scare you, the special effects are very extraordinary and may even put the so very popular and overly used CGI effects of today to shame, it took hard work and creativity from all involved, and it definitely shows. Please, if you don't know who Claude Rains is, I can't think of any better way to get introduced then with this fun, scary, brilliant film. Plus, watch for the old lady from Titanic in it, and she is very much not old for a nice mindfreak :D



(

I've meddled in things man should leave aloneCollapse

)
Wednesday, September 2nd, 2009
---
12:27 pm
- South Korea - "The Good, The Bad, And The Weird" (2008)
The Good, The Bad, And The Weird (2008)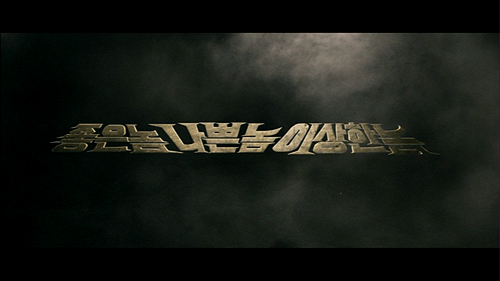 Edition ;


Region 3 - 3-disc Special Edition

I felt like challenging myself so I bring you Kim Ji Woon's latest genre hop,"The Good, The Bad, And The Weird". I have unintentionally created a common thread among my Korean film caps as all but "Paradise Murdered" and "The Chaser" share the presence of Song Kang Ho (but let's be honest Kim Yoon Seok is practically his twin). I just can't help the fact the man knows how to pick em and clearly GBW is no exception. Riddled with beautifully photographed action sequences, that were a pain in the ass to cap, and delightful performances make for one exciting popcorn night! One of best Korean films from the year, don't miss it!

If you haven't gotten to see it yet, I highly recommend you go ahead a purchase the DVD. This is no film to be viewed from a cruddy torrent, it truly makes a difference in the films overall effect. Not to mention the packaging is an added incentive. It's not as swagged out as I expected but it is still a beauty in any collection! Shame I can't understand any of the extras though... >:P


Enjoy the caps, I hope I supplied enough of your favorite Nomja! If I left any out, feel free to tell me :D



(

Treasure, buried, dig up in large volumes...Collapse

)
(5 comments | Call it..)
Monday, August 31st, 2009
---
11:53 pm
- South Korea - "The Host" (2006)
The Host (2006)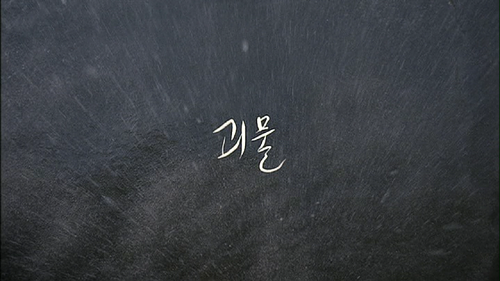 Edition ;


Region 3 - KD Media 4-disc Limited Edition

This time around I decided to go with the best of 2006 (has it been that long ago already o.o) with Bong Joon-Ho's "The Host". I must admit, I was very skeptical when it was first announced that Bong's new project was going to be a monster movie, how wrong I was ! I should have known better, Bong can do no wrong, hell he could direct a new Pokemon movie, throw Song Kang Ho in looking all moody and you'll get a classic, hes just that talented. To make a long story short, yes, a blockbuster can be good, it's true I'm not kidding, just put your trust in Bong Joon Ho.

Now the DVD is story all its' own. What can I say, the thing is beauty incarnate. I can't ever just walk past it without giving it a look over. It's got so much girth you could probably knock someone out cold with it. But its not clunky for nothing, it's packing a 4 disc digipack and 2 scenario/story board books. Buy it!



(

If I pour them in the drain, they'll run into the Han River. Collapse

)
(3 comments | Call it..)
1:29 pm
- U.S. - Vertigo (1958)
Vertigo (1958)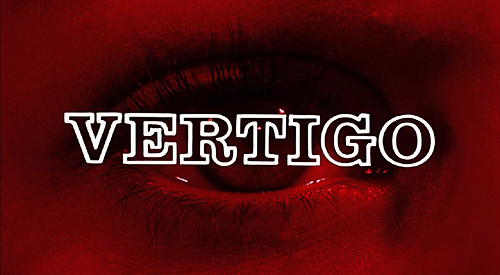 Edition ;


Universal Region 2 - The James Stewart Collection - 5-Discs

I've been in a mystery mood, so I decided to put up a Hitchcock classic with his 1958 masterpiece "Vertigo". Haunting, chilling, and mysterious are all words that fit what Vertigo will offer, as expected from Hitch. James Stewart is obviously amazing , nothing new there. Kim Novak turns up one of the best performances of her career playing duel roles so different and convincing, while looking pretty fabulous (carrying the poundage of makeup for the Viki role is not an easy look to pull off, those brows O.O)

I got my version in a set with a James Stewart movie collection given to me for my birthday (thank you Kri!). It's really one hell of a beautiful piece of design, with each turn of the digipack you get hit in the face with gorgeous photos from each film. Although there about 8 million differently pimped editions of Hitchcocks films, if you find yourself in a position where you don't own any, this set is a very good choice to start with!


--EDIT--
I uploaded a few more caps by request (if anyone has any more, I'm more than happy to make it happen), just a couple of the beautiful forest shots in the film, and how stupid was I not to include them in the first place, hope you enjoy them!



(

I look up,..I look down...Collapse

)
(4 comments | Call it..)
12:29 am
- South Korea - "Paradise Murdered" (2007)
Paradise Murdered (2007)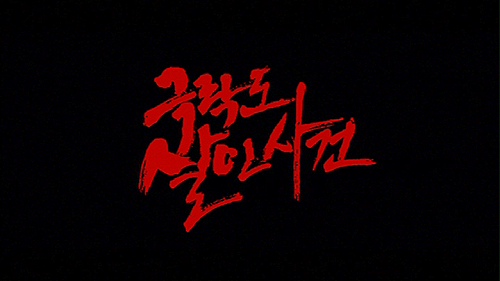 Edition ;


Region 3 - Special Edition - 2- Disc

I'm keeping up with Korean films by capping one of my favorites from 2007 with "Paradise Murdered". I really tried to restrain myself from making this a Park Hae Il picspam cause I love the dude and you should too. The film is a quirky mystery that will scare you, make you laugh, and kinda gross you out at times, my kind of film.

I picked up this beauty after 2 years of lusting at a swanky book/cd/dvd store (aka my new home) in Koreatown in the city. As the film itself, it's packaging doesn't take itself too seriously, just a slipcase no unnecessary clunk. It comes with some poster cards and a nice little nod to the movie with the ominous note that sets the wheels of the crazy story in motion. I'm beginning to think I say this too much but, if you haven't seen it, ummm..yeah see it :D



(

The mayor brought in something, that he shouldn't have brought inCollapse

)
Saturday, August 29th, 2009
---
1:47 pm
- South Korea - "The Chaser" (2008)
The Chaser (2008)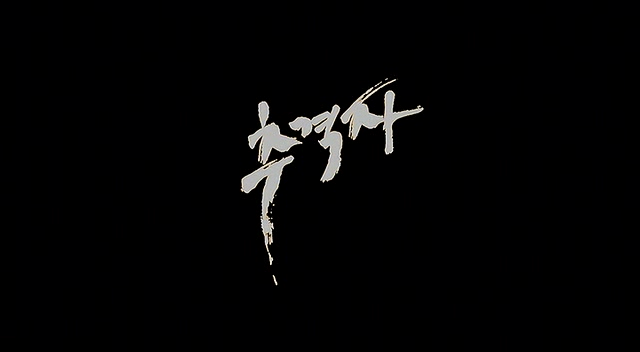 Edition;


Reigon 3 - 2 Disc - Limited Edition w/ Photobook

Okay so I decided to screencap the recently acclaimed South Korean thriller "The Chaser" because it was the best Korean film from 2008 and everybody knows it. I thank god that I was able to pick up the limited edition before it was gobbled up by ridiculouslyoverpriceddvds.com. It's swagged out in a cool textured slipcase with 2 separate cases for each disc, not to mention a nifty photobook filled with silvery shiny fierceness. My advice to you is, buy it, watch it, love it, and watch it again :)



(

4885Collapse

)
(4 comments | Call it..)
Friday, August 28th, 2009
---
1:20 pm
- U.S. - "Some Like It Hot" (1959)
Some Like It Hot (1959)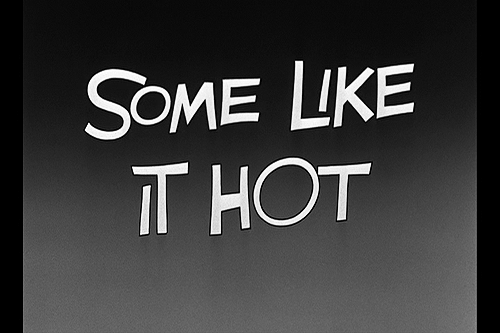 Edition ;


MGM 2-Disc Collector's Edition

Lord knows I couldn't stay away from the classics for long, so I'm back with Billy Wilder's beloved comedy from 1959, "Some Like It Hot". These caps are taken from my own copy of the MGM 2-disc set, luck struck me one day as I found it used in F.Y.E at a descent price. The restoration looks lovely, plenty of swell features, and very great poster cards which make for a very pretty hunk of plastic.

As for the film, what is there to say that hasn't been said already? Marilyn Monroe plays the lovely down-on-her luck airhead wonderfully, and umm yeah, Tony Curtis and Jack Lemmon dressed as women, very repulsively unattractive women, but that just makes it all the more funnier! Do yourself a favor and see it!



(

It's like jello on springs!Collapse

)
Wednesday, August 26th, 2009
---
6:56 pm
- South Korea - "Memories of Murder", 2003
Memories of Murder (2003)



Edition ;


Palm Pictures - Region 1 (standard jewel case)

Well, here's a change of pace for everyone, I decided to whip out the best from South Korea, with Bong Joon-Ho's classic "Memories of Murder". I'm a little annoyed that this is the only edition I own. The only places I can find the limited Edition is at least going to set me back $80.00 (!!!), and I'm not prepared to take a loan out for a DVD no matter how pretty. Palm Pictures release is simply a jewel case with some features nothing more, nothing less (I'm still on the fence with the cover art :/)although the English dub track provides a nice attack of Lulz. If you haven't seen this film, you'll never fully understand why Song Kang Ho is the greatest actor on the face of the earth, one haunting glance is all you need.



(

Documents never lie...Collapse

)
(9 comments | Call it..)
---